Home Equity Loans
Home Equity Loans are not just for home improvements anymore. In fact, one of the best sources of borrowing these days is tied to the equity in your home. With exceptionally low interest rates, now is the time to tap into your home's equity- whether it is for home improvements, paying debt, or funding college tuition. We offer 3 different options for our Home Equity loans, up to 100% of the appraised value of your home (minus any first mortgage), with no dollar limit.
When you use the equity you've put into your home, you may be able to deduct the interest on your tax return- which further reduces your cost of borrowing. Contact a loan officer to apply for a Home Equity loan and receive current rate information.
First Mortgages & Refinances
Conventional Mortgages
This type of mortgage is not insured by a government program, however, it may be insured with private mortgage insurance. Conventional mortgages typically require a larger down payment than FHA or VA loans.
Adjustable-Rate Mortgages
The initial interest rate on an adjustable-rate mortgage (ARM) is generally lower than that of a fixed-rate loan. However, the interest rate may increase or decrease in the future, and the size of your payments will go up or down along with the rate. The most common ARMs are fixed rate for three, five or seven years, and then the rate adjusts annually. ARMs are most appropriate for people who have sufficient financial resources to handle potential payment increases or know that they plan to sell their home around the time the loan's interest rate it set to change.
Refinances
In recent years, many people have refinanced their home loans to take advantage of low interest rates. Some have also refinanced in order to obtain cash for other purposes. In a refinance, you pay off your mortgage with a new loan. In a cash out refinance, you increase the size of your debt in order to get cash at the closing table.
FHA and VA Loans
If you are a first-time home buyer or Veteran looking to take advantage of a loan with little or no down-payment, we can help with that too! We have a lender that we partner with to offer different options. Please contact us for more information on these loan options.
If you have any questions about Home Loans, please contact one of our Mortgage Loan Officers, Brian Beverlin or Brian Brewer. You may also apply online.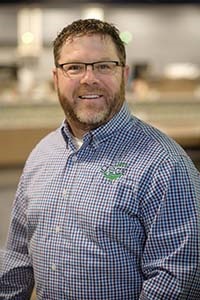 Brian Brewer
Mortgage & Consumer Loan Officer
bbrewer@gaselectriccu.com NMLS#1046363
309-788-6910 direct line