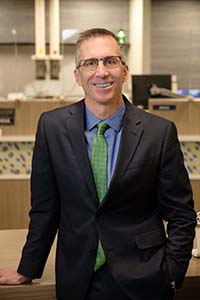 There's many things we take great pride in here at GECU, but chief among them is communicating with our members. After all, you are the owners of the credit union, and have a right to know what's going on and to understand our operating philosophy. Deciding to add a blog to our website is just one more way for us to communicate our mission and core values, and to keep you informed.
So what to write about for our very first entry? Interesting enough, let's discuss member service. I recently came across an article on customer service ratings in the banking industry. For many years, credit unions FAR outpaced our banking competitors in customer (member) service. It wasn't even close really. But about five years ago, that changed. And ever since then, banks have actually scored better than credit unions. So what's changed?
As the article states, "analysts have stated the slide in credit union service is due to the definition of service changing in consumers' minds, shifting from a friendly face to a speedy transaction, and the ability of the FI to meet all of their digital needs. Those experts, too, have said credit unions have too many points of friction within their member-facing services, which are leading to the lower satisfaction scores."
To which I say hogwash. Yes, we need to offer those electronic services that you expect – mobile banking and bill pay, remote deposit capture, credit score tracking – but we, and many small credit unions do. I would argue there is a direct correlation between our industry's sinking member service ratings and the large mergers and consolidations in our industry. Specifically, when credit unions merge across states, or communities that have no common bond. I believe it's the loss of local control, the loss of that common bond, and the need for growth at all costs that are behind our lower ratings. Don't get me wrong – there are many great, large credit unions out there who still look out for the best interests of their members. But many of these large credit unions have also moved to ITMs (those ATM like kiosks with a live person behind the screen) to replace live tellers. Or they have a call center located out of state, and a phone tree menu that is hard to navigate.
Dealing with a live person may not seem important as long as you never incur an issue with your account. But when you do have an issue, that's when it matters. And that's where small credit unions shine. When you call GECU – or text, or email, or stop in – you know you're going to speak with an employee in person who knows you and can help you. You know we will go out of our way to make things right, and get you the answer you need as quickly as possible. You know improving your financial well-being is our mission, and that we demonstrate this every day with our higher savings rates, lower loan rates, and lower fees than banks and other credit unions. Our members love us because we get it. As long as we focus on outstanding, personal service, growth will come. It's not the other way around. We hope you agree.